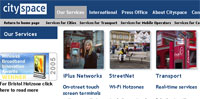 Wi-fi enabled North Londoners can now gorge their connectivity needs with the announcement by Islington Council that its 'Technology Mile' has gone live.
Located in Upper Street, Islington, the 'Technology Mile' runs from The Angel to Highbury Corner, providing one mile of unbroken free wireless broadband access to residents, businesses and any passing freeloader.
The service will be available to anyone with a suitably enabled Wi-Fi device, with surfers being directed to a customised council page featuring a comprehensive menu of council services, information and communication options including jobs, travel, e-Govt options, child care and advice services
Happily, there's also direct access to the World Wide Web – all for nowt.
The second part of the project is to dish out computers to businesses in the area, so that customers can use these for free access.

The council are anticipating that locals may use the free access to pay off council bills and are hopeful that the service may stimulate commercial activity in the area.
"As London's largest 'hotzone' Islington's Technology Mile is a landmark in providing wide reaching community services directly on the street," says Cllr Bridget Fox. "By offering free access to important council services and to the internet, the project addresses social inclusion head on and supports our ambition to turn Islington into an A1 Borough for all.
"The technology mile builds on other schemes the council has in place to help everyone to gain the benefits of internet access. I'm especially pleased with the second phase of the project, when we hope to begin work with selected local businesses, supplying PCs along Upper St business so they can offer free access to their customers."
We like this scheme. There's not much point in having free community Wi-Fi if only well-heeled laptop-toters can use it, but by ensuring public access to computers in the area, the walls of the digital divide could come crashing down.
The scheme comes with a few commercial risks – if the service proves to be fast and reliable, locals may cancel their commercial subscriptions and this may result in ISPs fighting back – in America, several commercial providers have already managed to get legislation passed to prevent free or low-cost municipal broadband services arguing that they're uncompetitive.
Marc Meyohas, Chief Executive of Cityspace, the company who built the network gave out his love for the borough: "Islington is a progressive council with great vision; the Technology Mile proves what can be achieved for the community by taking the internet out of the restrictive arenas of homes and offices and truly integrating it into people's lives."