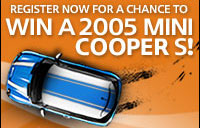 America Online is taking on the likes of Yahoo, Hotmail and Google's Gmail with its new free 2GB email service in the US, launched yesterday after trials earlier this year.
In a hope to lure storage-space spoilt customers in this highly competitive sector, AIM Mail is bundling in spam and virus protection and tight integration with AOL's AIM Instant Messenger Service.
In a turnaround from previous policy, the freebie Webmail account will be available to all and sundry rather than just AOL members, a move AOL hopes will reverse faltering revenues and crashing subscriber figures.
Users will be able to log in with their existing AOL IM screen name as their e-mail address, with an updated version of the AIM 5.9 software offering one-click access to AIM Mail.
A system-wide auto-upgrade will begin rolling out over the AIM network this week, with AOL trying to tempt the 22 million AIM users subscribers with an online advertising campaign and a gift-tastic US-wide sweepstakes promotion.
AIM users activating their AIM Mail account can register for the opportunity to get a piece of the prize draw action, with daily giveaways including Starbucks gift cards, T-Mobile Sidekicks, Apple iPod Shuffles and Sony PlayStation Portables.
One lucky AIM Mail user will get to rev off in a 2005 MINI Copper S.

The new free service represents a hefty shift in AOL's business strategy which has traditional involved charging users subscription fees for its services. Instead, the company is expecting to generate revenue from AIM Mail through banner ads – hence the punter-tempting monster giveaway promotion.
In a separate announcement, AOL has also announced that it will be dishing out unlimited email storage to its US ISP customers .