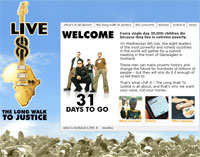 AOL has announced it will broadcast the Live 8 concerts in London, Philadelphia, Paris, Rome and Berlin online for free.
As "Live 8's exclusive online partner", America Online will stream all of the Live 8 concerts online, with the shows being available for six weeks after the event, viewable in the US and on free AOL portals in England, France, and Germany. The videos will be free of cost with no AOL subscription necessary.
The global event, organised by Bob Geldof, is intended to highlight the problem of global poverty and features a veritable galaxy of veteran stars who have dusted off the cobwebs to take part.
The free London Hyde Park concert will include seasoned acts such as Sir Elton John, Madonna, Mariah Carey, Sir Paul McCartney, Sting, U2 and R.E.M, with Stevie Wonder, Bon Jovi, 50 Cent and P. Diddy scheduled to appear in the Philadelphia show.
With emotive violins reaching a tearful crescendo, America Online chairman and CEO Jon Miller splurted: "We have seen the Internet emerge as an incredibly powerful force for good in the world…with Live 8, we have the chance to help eradicate global poverty, not by raising money, but by linking people from around the globe, so that their collective voices can be heard loud and clear."
"Nothing like this has ever been done on this scale before, and we are proud to be a part of it," added Miller, before going off to shine his halo.
Organiser Bob Geldof explained the aim of the Live 8 concerts was to create attention and "political heat" to persuade G8 leaders to agree to cancel Africa's unpayable debts, double aid for the continent and make trade fair.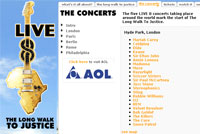 Geldof boomed: "The G8 leaders have it within their power to alter history. They will only have the will to do so if millions of people show them that enough is enough."
With demand expected to be off the scale, mobile operator O2 has been charged with providing the mechanism for distributing the 150,000 free tickets for the Live 8 Hyde Park show.
The tickets will be made available through via a Text lottery, to be announced at 8am on Monday 6 June via TV, radio and newspapers.
For those unable to get tickets, the show can be seen on giant BBC screens in the centre of major cities across the UK including Birmingham, Hull, Liverpool, Manchester, Plymouth, Portsmouth, Belfast, Leeds and Wrexham.
Live 8
Global Call to Action against Poverty
'Live Aid' Returns With Concerts Around the Globe