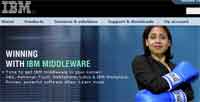 The insatiable appetite of hungry surfers desperate for more information, analysis and intelligence has fuelled a database market growth of 10.3 percent in 2004, according to research released by the Gartner Group.
On an oily mat somewhere in Business Land, IBM and Oracle are manfully wrestling with each other to control the lucrative relational database market.
Although IBM still holds the crown – hanging on to their slim market lead of 34.1 percent of the overall market – Oracle are laying in some mean moves, maintaining 33.7 percent and enjoying a sizeable boost from Linux.
"Oracle saw strong growth of nearly 15 per cent, much of it coming from its performance on the Linux platform," Gartner said.
"The difference between the giants in terms of revenue was only US$30m (~£16.5), making it too tight to declare a clear winner."
Lagging a fair way behind is Microsoft, with 20 percent of the market, followed by NCR Teradata at 2.9 percent, Sybase at 2.3 percent and all the others collectively totaling 6.6 percent.
It's a lucrative market, growing from just under US$7.1 billion in 2003 to nearly US$7.8 billion in terms of new licence sales, although the continuing wobbliness of the US dollar may have artificially inflated market growth by some 3 to 4 percent of overall growth.
"[Overall market growth] was probably somewhere between 6 and 7 percent," observed Gartner Inc.'s Colleen Graham, who authored the report, noting that sales outside of the United States, when converted to US dollars, added more to vendor revenue because of currency conversion, and weren't necessarily reflecting increased demand.
In terms of overall growth, Microsoft and Teradata both led the field with 18 percent and 17 percent, respectively.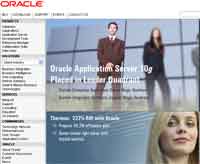 Despite being a still a relatively small part of the overall RDBMS market, the Linux segment is as hot as an extra spicy vindaloo, registering 118 percent growth in 2004, more than doubling from US$300 million in 2003 to over US$650 million in 2004.
Gartner found that Oracle is putting some distance between its rival IBM in this subsection of the market, with a growth of 155 percent.
Oracle now controls 80.5 percent of the Linux RDBMS market, up from 69 percent a year ago, while IBM slumped to 16.5 percent of the market share, compared 28.4 percent the previous year.
Linux RDBMS new license revenue grew 118.4 per cent to US$654.8m, with Oracle taking up for 80.5 per cent of that business.
In terms of growth of sales, Linux performed better in RDBMS than Windows. The platform grew 10 per cent to US$3.1bn in 2004, although Microsoft hogs a hefty 50.9 per cent of business, up from 47.4 percent in 2003.
Microsoft's Tom Rizzo, director of product management for SQL Server, made funny faces while deriding the growth of the Linux database, chortling: "Look at it: It's a small market. You'd expect some growth there, from such a small base."
With chest set to 'maximum puff', Rizzo reminded anyone within earshot of healthy growth in the Windows database market, citing the figures as evidence that Windows is "eating away at the Linux camp" rather than the other way around.
The RDBMS market on the Windows server platform grew 10 percent in 2004. Microsoft's market share grew 18 percent in this segment.