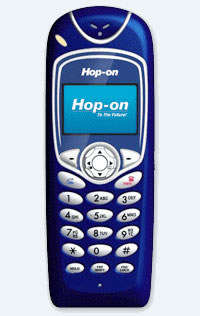 They've got a bit of a reputation for being a tad over-affirmative with their announcements, but Californian wireless solutions company Hop-on have revealed details of their new US$39 (~€31~£21.33) WiFi phone.
The device – which looks like a homage to a late 90s chunky Nokia phone – lets users make Voice over IP phone calls from available public or private Wi-Fi access points.
Measuring a pocket-challenging 126.2 x 46.3 x 27.5 mm, the HOP1502 Wi-Fi IP weighs 135g (with battery) and sports a Ye Olde Mono backlit LCD, offering a 102 x 650 pixels screen size.
The 1800mAh Standard Li-Ion battery is claimed to provide 3.5 hours of talk time or 30 hours of standby.
The WiFi handset supports a wide variety of VoIP features and functions, based on the Session Initiation Protocol (SIP). Depending on the service provider, users can enjoy call features such as three-way calling, call waiting and call forwarding etc.
The clunky chunky phone also enables voice processes, including the curiously monikered "comfort noise generation" as well as voice activity detection, and echo cancellation, and IP protocol features such as Real-Time Transfer Protocol (RTP), Session Description Protocol, Dynamic Host Configuration Protocol (DHCP), and Virtual SIM (VSIM).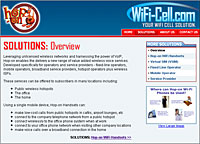 Of course, the main attraction of this phone is the low, low price, with the company claiming that it "provides all the features and functionality of a VoIP terminal adapter but has the advantage of enabling users to talk from any available public or private WiFi access point. "
VoIP handsets are set to become increasingly popular, with market research firm Instat claiming that the number of mobile/WLAN (VOIP) subscribers will reach over 256 million worldwide by 2009, with the numbers of subscribers using WLAN for voice expected to exceed those using WLAN for data only by that date.
"Hop-on believes that the features and price point of the HOP1502 WiFi IP handset will be challenging to the Industry," insisted Samuel Demissie, President of Hop-on. "WiFi phones have not yet been deployed in quantity by carriers due to security challenges such as fraud, theft of call information, passwords and the lack of 911 Emergency Service."
Hop-on worked with security partners to develop a "total solution package" (we like those) for carriers and hotspot owners, enabling "seamless authentication and billing enablement for the carrier."
Hop on claims that their Virtual SIM (VSIM) patented software technology replicates the same benefits of GSM/CDMA security and authentication in WiFi phones and "substantially" reduces the security and billing challenges faced by carriers.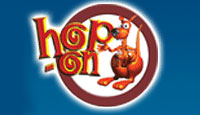 It's an ugly looking beast all right, but we like the idea of cheap VoIP handsets, although hardened old cynics like us would suggest that you don't hold your breath on this one, quite yet.