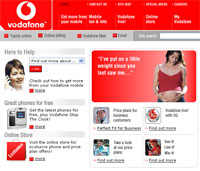 Poor old granny. All she wants to do is ring up a cab to take her home from the bingo, but her hi-tech, Bluetooth enabled, all-vibrating, MP3-playing, camera-toting, WAP-enabled phone is trying to get her to download the latest Blink 182 ringtone and asking for her GSM details.
With the simpler needs of the technologically challenged and technophobic in mind, Vodafone is launching two feature-stripped handsets in a move to entice customers who want just basic voice and text services with no razzamatazz.
The 'Vodafone Simply' service, a result of customer research and feedback, will offer two easy-to-use phones developed by French telecoms bigwigs Sagem.
The phones will sport large screens with legible text and symbols, as well as three buttons giving access to the most commonly used services: the main screen, contacts and messages.
"We have many customers who want the latest mobile phone with all the advanced services from full track music downloads to video calling and mobile TV," said Chief Marketing Officer Peter Bamford.
"We also have customers who just want to make and receive calls and text messages on their mobile phones. Vodafone Simply is as easy to use mobile service…to help them stay in touch with friends and family."
With manufacturers creating ever more complex, feature-laden multimedia smartphones glistening with widgets, a market has opened up for customers who just want a blooming phone.

With the more advanced phone tariffs making the small print of an insurance company look like the Beano, some telecoms companies have been trying to woo customers wanting just basic services with simpler pricing.
With easyMobile, Fresh and Virgin Mobile already offering flat-rate phone and text deals, it's a bit surprising to see Vodafone not following suit with their "Simply" tariff.
Their scheme offers a pre-paid Vodafone Simply handset for £80 (~US$146 ~€116) (free with a monthly price plan) with a "Stop the Clock" price plan only charging customers the first three minutes of calls (up to an hour long) made in the evenings and weekends.
Without a price plan, pre-paid calls will sting customers at a rate of 35p per minute during the day to any network and 5p per minute in the evenings. Text messages cost 12p each.
Vodafone is targeting the new phones at customers aged from the mid-thirties upwards, believing the market opportunity to be "quite large".
The service will be available in Portugal, Spain and the UK from 24 May, with Vodafone Germany, Vodafone Greece, Vodafone New Zealand, Vodafone Sweden and Swisscom Mobile following in June and Mobilkom Austria in July.