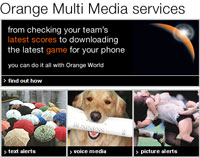 Orange has become the first UK provider to offer live television channels to its customers' handsets.
Available exclusively to UK-based Orange 3G customers, the service will give customers access to nine channels, including ITN News, CNN, Cartoon Network, Extreme Sports, as well as dedicated Big Brother and Celebrity Love Island channels.
Mobile TV is seen as the latest hot potato in the telecoms world, with the service enabled by the DVB-H broadcast transmission standard – a digital TV technology that offers low battery consumption and robust reception.
With their announcement of a UK service, Orange have jumped the gun on rivals o2, who are still experimenting with Mobile TV trials in the Oxford area.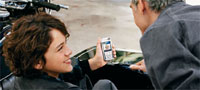 Orange are already broadcasting 23 TV channels over mobile phones in France, along with other European networks selling selected live TV via 3G network streaming.
"This is truly a service where 3G comes into its own. We don't expect people to watch for hours at a time but to dip in and out," beamed Julian Diment, head of commercial and brand partnerships at Orange.
Not surprisingly, 3G operators – who collectively shelled out £22.5bn for the networks – are extremely hopeful that mobile TV will prove an alluring attraction for consumers to sign up for their flagging service.
Keen to milk the franchise for every last penny, there are a slew of interminable reality TV show tie-ins lurking around the corner.
For the terminally sad, Channel 4 will provide live 24-hour streaming from the Big Brother house during the next series, which is launched next month.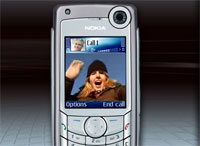 We can't imagine any circumstances where we'd consider paying to watch barrel-scraping Celebrity Love Island program on a mobile, but someone clearly thinks that a dire mobile channel based on the show will be a hit.
Orange's service launches next Monday and will initially only be available on the Nokia 6680 from Orange.
Subscriptions are charged at £10 (~US$18.3 ~€14.5) a month on top of regular bills. Orange