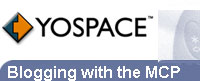 UK video mobile network, 3, has announced the first mobile blogging service, letting their 3 million customers share mugshots, arty scenes and video clips captured on their video mobile via the Web.
The service, called 'My Gallery', integrates 3G technology and Web blogging, with pictures or videos sent from a video mobile instantly published to a customer's unique Web site, hosted by Yospace's Media Community Platform.
Customers can choose to share their images with everyone or maintain an 'invite-only' blog for friends and family. Visitors to the sites will also be able to interactively "blog" their feedback.
Earlier this month, David Springall, CTO and founder of Yospace excitedly spoke about his own product: "MMS has yet to reach its full potential. Users need a compelling reason to start sending MMS and blogging is this year's new media phenomenon. By fusing the two, we have created what we think will be the next major communication revolution. We've seen mobile phones, email, instant messenger and blogging. Now it's time to say hello to mobile blogging."

Graeme Oxby, Marketing Director of 3 was also big on the idea: "Video mobile technology is all about immediacy, whether it's downloading the latest music video on the move or being the first to share the breaking news from Big Brother with your friends. With My Gallery, you can share your antics straight away with your friends and family without being tied to a PC."
The service – exclusive to 3 customers – also lets users upload pictures from their home computer, manage their content and invite chums to visit. Each blog can contain up to 10MB of pics and clips
"3's My Gallery is set to transform blogging from a 'geeky' hobby to a mainstream communication method. The immediacy of this type of web publishing means that people can comment instantly as it happens, on the move" added David Springall of YoSpace.

The procedure for 3 customers to set up a My Gallery site is straightforward enough: users simply send a picture or video message to "3333" (this will be charged at a standard rate) and they'll then be sent a password via SMS to manage their blog site.
Blogging remains a boom industry with analysts Technorati calculating that the number of blogs in existence has doubled every five and a half months for the last 18 months.
With nearly 5 million blogs now estimated to be online, 3's new service may prove a winner with consumers.