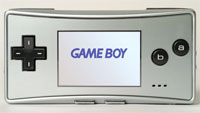 Although Nintendo's Revolution launch yesterday was a bit thin on detail, the company have now released full details of their itsy-bitsy addition to the Game Boy family, Game Boy Micro.
Sizing up at a diminutive four inches wide, two inches tall, and 0.7 inches thick, Nintendo are billing the Game Boy Micro as the "smallest and sleekest Game Boy product" they've created, claiming that it will fit comfortably into the pocket of your "tightest jeans."
We're not quite sure that they'll find space in the straining waistband of Billy "20 Pints" McQuaffer, but it is a wee thing with dimensions only slightly larger than an iPod Mini and weighing just 2.8 ounces ("the same weight as 80 paper clips" as Nintendo bizarrely informed us).
The Game Boy Micro offers the same processing power as the Game Boy Advance SP models and plays all the same titles while, apparently, lending you an air of "industrial-hip cool."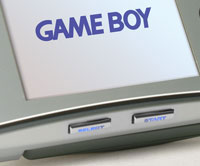 "We're making the gorgeous Game Boy Micro for image-conscious folks who love video games, the ones who want the look of their system to be as cool as the games they play on it," waffled George Harrison, who has one of the longest job descriptions we've seen for a while: Nintendo Of America's Senior Vice President Of Marketing And Corporate Communications.
But Harrison (NOASVPOMACC) wasn't quite finished with the ludicrous marketing tosh: "Because of its diminutive size and industrial-hip look, Game Boy Micro immediately identifies the person playing it as a trendsetter with discriminating style."
So there you have it: any hopeless buffoon walking around with a Micro will automatically be transformed into a style icon….
Back in the real world, Nintendo are well chuffed with their new two-inch backlit screen – "the best Game Boy screen ever" – which lets users adjust the brightness of the screen to adapt to indoor lights or outdoor sunshine.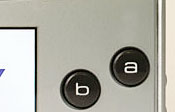 Wrapping up the feature list, the Game Boy Micro comes with a built-in, rechargeable lithium-ion battery, supports standard headphones and comes with a removable face plate for that all-important customisation thang.
Game Boy Micro is expected to be released this autumn.