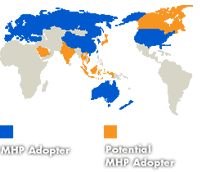 Across Europe, interactive services using the DVB Multimedia Home Platform (MHP) standard have been launched on cable, satellite and terrestrial platforms. While not formally mandated by the European Commission, MHP has been embraced as an open and interoperable standard that can be actively encouraged and promoted. Already, several countries have launched MHP-based interactive services on the terrestrial platform.
Finland pioneered MHP-based interactive services on the digital terrestrial television (DTT) platform when it launched services in August 2001. Services currently include digital teletext, banking and game applications, advertising sites and a seven-day electronic programme guide (EPG). A mobile telephone assures the return channel. Currently, a regional MHP portal is available in the city of Tampere to provide local information and a similar portal will soon be launched in Helsinki. The government has actively supported the development of MHP-based services through its project ArviD.
Public service broadcasters have been very active in establishing the Nordic Migration Plan to ensure the introduction of MHP-based interactive services. The launch of DTT services in Denmark and Norway will likely include interactive services. Denmark is expected to launch its DTT services in July 2005 while Norway may launch its services in 2006.
In Sweden, interactive services were initially implemented using the proprietary system, OpenTV. However, the migration towards MHP-based services is underway and the public broadcaster SVT launched an MHP based digital teletext service in March 2004.
Germany has been a continued supporter of the roll-out of MHP-based interactive television services, especially on the satellite platform. MHP data services have been launched on the terrestrial television platform.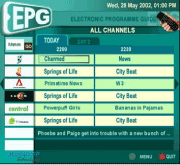 In Austria, a DTT trial with MHP-based interactive services provided 150 households in Graz with access to an interactive television service called !TV4 using the telephone connection for the return channel. Using their television remote control, viewers could retrieve information services and vote. Given the success of the trial, it is likely that MHP-based interactive services will be launched alongside DTT services.
In Hungary, MHP-based interactive services are available in the DTT trials conducted by Antenna Hungaria. The services are information based and include digital teletext and an EPG.
In February 2002, the Ministry of Science and Technology in Spain sponsored an agreement for the promotion and implementation of interactive services based on the MHP standard signed by leading manufacturers and broadcasters. Currently MHP services are available in Catalunya, Madrid and the Basque region and are expected to be launched in Galicia. In Catalunya, the Miromercats pilot supplied 100 homes with advanced MHP applications and provided a return channel via the telephone line.
But the turning point for MHP has been in Italy where interactive content has been a cornerstone of the launch of DTT services. Broadcasters have provided a wide range of MHP-based interactive services such as digital teletext, news information, weather forecasts, audience polling and an EPG. Furthermore, the government seeks to develop "t-government" services in an aim to help bridge the digital divide. Government subsidies are available to encourage households to purchase interactive set-top boxes.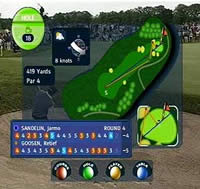 Of course MHP is not the only interactive television service system in the market. Proprietary systems such as MediaHighway and OpenTV have been installed in a large number of set-top boxes, often for cable and satellite platforms. In the United Kingdom, the MHEG standard is widely used on the terrestrial platform. As a result of the various products and services in the market, the DVB Project has been working on the development of the Portable Content Format (PCF) to deliver a wide range of interactive television services to multiple platforms with a minimum of re-authoring. It has significant interest for operators who wish to migrate towards MHP by allowing them to manage simultaneously a mixed population of devices.
We'll be carrying a follow up piece by Natalie on Friday, about launching MHP services. Natalie works for Digitag
Photo credits: Alticast, Uni-Weimer, MHP.org, MIT Xperts