With a manly backslap, Intel and Sprint have announced that they will work together to advance development of the 802.16e WiMAX standard.
WiMAX is an acronym for Worldwide Interoperability for Microwave Access (snappy, eh?) and the technology aims to provide wireless broadband connectivity to fixed, portable and mobile devices without the need for line-of-sight to a base station.
The two companies will share technical specifications and equipment trials, and run interoperability tests to examine possible wireless broadband devices and services.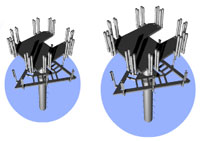 In case that sounded too simple, here's Oliver Valente, CTO and VP of technology development for Sprint, to baffle you with a buzzword remix: "Our relationship with Intel will help validate requirements, drive key ecosystem development needs, formulate network strategies and define the potential for advanced wireless services adoption".
Intel has been bigging up WiMAX with an eye to repeating their successful experience as the leading provider of Wi-Fi chipsets.
Although doubters of WiMAX maintain that competition with the 3G cell-phone service will render the technology redundant, both Intel and Sprint view portability as a winning approach to the technology, insisted that WiMAX "can provide high-capacity wireless broadband coverage and services throughout metro areas and an enriched multimedia user experience."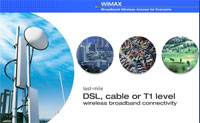 Sean Maloney, another executive with an impossibly long job description ("executive vice president and general manager of the Intel Mobility Group") added: "WiMAX technology has the promise to deliver new broadband services to consumers globally."
The partnership hopes to draw on Sprint/Nextel's substantial holdings in 2.5GHz spectrum band, although it's been described as a "messy complex band" by wireless specialist Joe Nordgaard of Spectral Advantage, who added, "It's going to be very difficult to come out with a common worldwide solution similar to Wi-Fi."