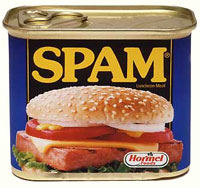 According to a survey carried out over the Easter period by network management company, Ipswitch, a thumping 93% of all e-mail received was unwanted spam.
According to the company's research, 44% of the spam surveyed was offering mortgage and loan 'deals', 18% of spam e-mails were offering various types of medication with 9% of pesky spam offering pirated software.
The survey also highlighted a new trend of e-mails attempting to 'phish' recipients' banking details in lottery scams, with 7% of spam e-mails recorded being of this type, and a further 7% of the spam was made up of various pornographic offerings.
Naturally, the company had a shiny new product on hand to sort out the problem they'd just highlighted, the anti-spam Ipswitch Collaboration Suite 2.0.
Elsewhere, AOL's anti-spam software backfired spectacularly in the hurricane-hit state of Florida, where emergency managers in Indian River County discovered that their email weather alerts were being tagged as spam.
After an unusually busy hurricane season, around 4,200 people signed up for the county's e-mail alert service, offering quick alerts on hurricanes, tornadoes and other weather emergencies.
But not everyone was receiving the alerts, as AOL's filters were trapping the emergency emails as spam.
Basil Dancy, a county computer software engineer, explained, "Because we send out mail in large numbers, it becomes a pattern for spam senders."
The county is now working with AOL to fix the problem