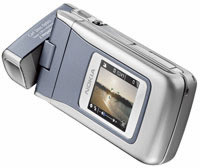 Nokia continues to be the Big Cheese of the worldwide mobile handset market, shipping nearly twice as many phones as its nearest competitor, Motorola.
According to a report by IDC, Nokia shipped 53.8 million handsets in the first quarter of 2005, representing a chunky 30.9% share of the market.
Motorola lagged a fair way behind with 28.7 million shipments (16.5% of the market), followed by fast-rising Samsung, who had 24.5 million shipments and 14.1% of the market.
Nokia anticipates continued success and expects to shift 25 million smartphones in 2005 – twice as many as the 12 million it sold in 2004.
According to data from Canalys, it's already off to a flying start, shipping almost 5.4 million smartphones in the traditionally slow first quarter, a triple fold increase from last year.
Overall, global shipments of smart mobile devices were up 82% year on year in Q1 2005, with Nokia grabbing half the market, followed by palmOne, RIM (Blackberry) and Fujitsu.
Phenomenal camera phone sales are also predicted by Nokia, which looks to ship 100 million camera phones and 40 million phones offering MP3 playback.
This would make Nokia the biggest camera and MP3 player sellers in the world, toppling Canon and Apple respectively off their thrones.
As we reported last week, Nokia has announced a range of high quality two-megapixel camera phones, making the phones an attractive alternative to a dedicated digital camera.
Similarly, their spanking new N91 phone has both a camera and an MP3 player built in, with a 4 gig hard drive rivalling standalone digital music players like the iPod mini.
The new phone is expected to come with a wallet draining price sting of around $800-$900 (~$422-£475 ~ €623-€700), although telecom carrier deals are expected to bring the price down to around $500 (~£264 ~€390) in the US.
Things are heating up in the handset industry, with the big players trying to out do each other on the feature lists.
Sony are about to release the W800, their first walkman phone, while Samsung is already offering camera phones offering higher resolution images than Nokia.
It's not all going Nokia's way though. In the US, Motorola remain the top dogs with a mobile market share of 31.7%, while Samsung overtook Nokia, grabbing 18.2% of the market compared with Nokia's 14.6%. In fourth place was LG Electronics with a market share of 12.6%, with Kyocera in fifth at 5.2%.