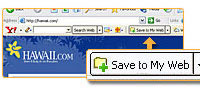 The battle between Google and Yahoo continues to heat up, with Yahoo ramping up the feature set of its 'My Web' suite of personal search tools.
My Web is a personal search engine that lets users save, recall and share resources with others using a selection of Yahoo tools, such as email and IM (instant messaging).
"Yahoo Search is focused on providing innovative, useful technologies that enable people to find, use, share, and expand knowledge," boomed Salim Mitha, director, Yahoo Search, UK & Ireland.
"My Web is the next step in our vision of integrating search, personal search and community by providing users an easy way to have their own personal web search experience that incorporates the best of the Web and what matters most to them."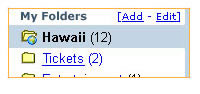 Yahoo claim that their service is "better than bookmarks", with users able to save an exact copy of a page along with the link, so that saved content will always be there when users return to the page.
Users can store thousands of pages, with tools allowing users to organise and search the content and access it from any computer.
Shared pages can be published using RSS (Rich Site Summary) with users given the option of creating public links pages.
My Web users will soon be able to share data with the Yahoo 360 social network, which allows users to share pictures, music and other data.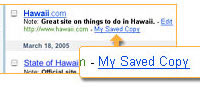 Yahoo's search history tool bears more than a passing similarity to the one released by Google last week and reflects the fierce competition between the two companies.
Yahoo are hoping that these new features will send people flocking to their portal services and thus generate lots and lots of lovely advertising revenue.
UPDATE: Thanks to Steve Rioux for getting in touch, telling us of a very similar service he started almost a year ago called "Smart Note". You can find it at Klogger.com