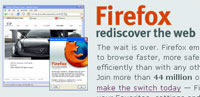 The open source Web browser FireFox, has experienced a humongous surge in popularity over the last year according to a report by Nielsen//NetRatings.
In March last year, the Internet research firm reported that Mozilla.org had a unique audience of 1.1 million home and work Internet users in the US – and that number has now soared 284% to 4.1 million unique users last month.
Similarly, the Firefox home page has been given a right royal battering, with figures from Nielsen/NetRatings recording a unique audience of 2.7 million, up 237% from the 795,000 it drew in June 2004.
(It seems that someone must be telling porky pies here, because the SpreadFirefox community marketing site has claimed that Firefox has been downloaded approximately 44.7 million times thus far.)
"The search for an alternative browser has grown in recent years, as the Internet's early adopters have begun to think of the browser as something other than a commodity," says Ken Cassar, director of strategic analytics for Nielsen/NetRatings.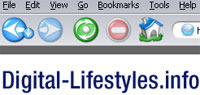 "FireFox gives Web surfers a simple tool that blocks unsolicited windows, is less susceptible to virus attacks and offers a unique means of navigating multiple sites within a single browser", Cassar added.
For reasons best known to themselves, Nielsen/NetRatings also broke down the Mozilla.org audience by sex and – not surprisingly – discovered that gadget-tastic, tech-loving blokes accounted for 71% – or nearly 1.9 million site visitors – compared to the lay-deees who comprised just 29% of traffic.
FireFox was created by a group of former Netscape programmers under the banner of the Mozilla Foundation, and its extra security features – such as the ability to block all pop-up ads and protect against spyware – has led to a steady exodus from Microsoft's all-conquering Internet Explorer browser.
The browser is also supported by an enthusiastic coding community who offer a raft of free add ons, browser themes and extensions.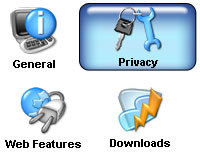 Although Microsoft is expected to adopt many of FireFox's features in its new Internet Explorer version 7.0 (expected this summer), the browser's exponential growth may force lazy coders to ensure that their sites are also compatible with the upstart browser.
Moreover, FireFox's growth may have a significant impact on online marketing, with its cookie blocking measures wreaking havoc with companies tracking the results of third party ad campaigns.
What a shame!