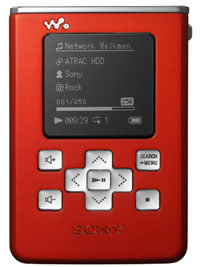 iPod killers, eh? You can barely get out of bed without some hyperbolic company boldly giving their new MP3 player the big one, only to discover that it's proved as popular as a lager lout on a teatotallers daytrip.
This time, however, it looks like the boffins at Sony could have pulled something special out of the bag.
The highly pocketable Sony NW-HD5 is a 20 Gigabyte hard disk player that is both smaller and lighter than its equivalent iPod, weighing in at a lithe 125g.
The machine supports Sony's ATRAC3 and ATRAC3plus compression formats, Windows Media Audio, WAV files and the vital MP3 format.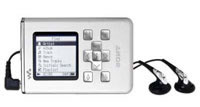 When it comes to battery life, the Sony has taken the iPod around the back of the bike sheds and given it a good thumping.
The Sony's far superior battery life serves up a mighty thirty hours of MP3 playback, (40 hours using Sony's proprietary ATRAC3Plus format at 48kbps), kicking sand dunes in the face of the equivalent iPod's weedy 12 hours.
Even better, Sony's battery is replaceable too, with Sony promising that spares will be available from High street stores – a far cry from iPod owners having to shell out big bucks to get Apple to exchange their worn out power packs.
"We're raising the stakes again in the digital music player market," purred a delighted Gregory Kukolj, General Manager for Personal Audio Europe. "The stunning new 'follow turn' feature, 40 hours battery life, incredibly compact design, and to top it off, very affordable pricing, make the new Network WALKMAN an irresistible proposition for users who seek a quality digital music player."
We're yet to rub up and get intimate with the Sony NW-HD5 but it appears to be an attractive looking affair, available in silver, red and (none more) black.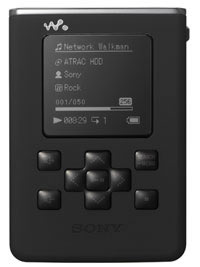 Unlike previous Sony models, the NW-HD5 is based around a portrait design where the seven line, 1.5-inch backlit LCD sits above the controls. In a neat twist, the new 'Follow Turn Display' feature automatically orients the interface screen horizontally or vertically depending on which way the player is held.
The player comes bundled with SonicStage 3.1 music management software for converting and managing music from CDs in both ATRAC3plus and MP3 formats. The software also offers access to Sony's iTunes-challenging "CONNECT" online catalogue of more than 600,000 tracks and albums.
The player goes on sale in May for £200 (US$375/€292) (£10 [US$19/€14] less than its equivalent iPod), with a 30 Gigabyte version in silver following the month after.