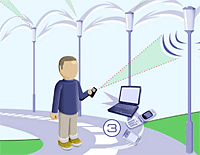 A British company has unveiled its cunning plan to roll out high-speed wireless networks and location-based services using street lampposts.
It sounds as mad as a box of gerbils to us, but Last Mile Communications reckons that the humble lamppost can be used to provide broadband Internet access and also to store useful information about its location.
The company has announced that it will work with security company Qinetiq to commercialise its plans, with trials scheduled later this year at an undisclosed location. The company is confident that its service can be rolled out on a large scale.
Last Mile's service wouldn't just turn the humble lamppost into wireless Internet access points – the company is also planning to turn the things into groovy info centres, with installed flash memory storing information about local pubs, coffee shops and retail outlets.
According to Barry Shrier, Last Mile's sales and marketing director, people who run an application called the MagicBook on a mobile device will be able to connect to their nearest enabled lamppost and access the information stored on it.
In a slightly less than convincing move, Last Mile is also hoping to win the backing from emergency services agencies. The idea would be that firefighters rushing to a flaming building would flip out their laptops and start accessing local information from a handy knowledgeable lamppost.
Ian Fogg, broadband and personal technology analyst at Jupiter Research Europe, said that Last Mile will need the support of the public sector for this ambitious plan to succeed.
"The idea of a local wireless network that emergency services, local utility companies and local government officials can use generally for day-to-day activities is a common one that is used in many places around the world," Fogg said.
Last Mile believes its lack of reliance on other telecommunications infrastructures such as local telephone exchanges would give their scheme the edge, with the system still working in the event of widespread network failures.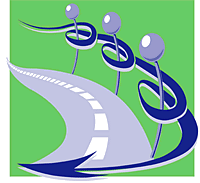 Shrier believes that revenue could be generated by persuading companies to store their information on lampposts, paying Last Mile whenever someone accesses data using the MagicBook.
"Say you operate a petrol station….The results of Last Mile's proposition, developed in partnership with Qinetiq, would allow you to communicate instantly, quickly and very cheaply with motorists who need petrol and are near you," Shrier said. "This is a profound advance in how the Internet works, and the benefits it provides."
We'd think these petrol-seeking motorists would be more likely to flip open a map, use a GPS device or make use of the many location based services available through WAP and mobile phones, but the real killer blow to MagicBook's plans may come from the increasing proliferation of Wi-Fi hot spots.
Pubs, railways stations and airports and cybercafes are all falling over themselves to offer free and paid wi-fi access in the UK, with even the roadside restaurant chain Little Chef announcing free access.
Ian Gogg shares these doubts, "3G manufacturers are building location-based functionality into handsets and base-stations today. "There are also a tremendous number of Wi-Fi hot spots in place already, for which the demand is relatively weak."
Last Mile reckons it would cost around £500 (US$933) to upgrade one lamppost to provide their service. We think it'll be some time before we see gangs of laptop-flipping consumers hanging around their lampposts.
Lampposts to provide location-based services (news.com)
Last Mile Communications