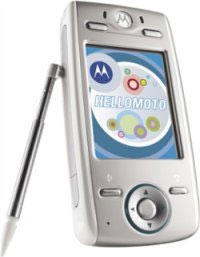 After the humiliating no-show of their much hyped (and currently in-limbo) iTunes phone at CeBIT earlier this month, Motorola have hit back with two new music phones.
The Motorola E680i is a stylised version of its first Linux-based music phone, retaining the integrated FM tuner and tri-band GSM/GPRS 900/1800/1900 MHz coverage with improved Bluetooth support capable of outputting stereo audio courtesy of the AD2P profile.
The handset boasts dual stereo speakers with virtual surround sound and can handle just about any music format you care to lob at it, including MP3 and WMA, AAC, MIDI and WAV.
The E680i comes with a large 65K colour touchscreen with QVGA (240 x 320 pixels) resolution and the same 0.3 MP integrated digital camera as found in the E680.
There's also the usual basic suite of applications, support for J2ME, handwriting recognition, messaging support (including e-mail), and USB 1.1.
The handset is slated for release in the Asia Pacific in April 2005, but there's been no pricing or worldwide availability announcements from Motorola yet
Motorola E725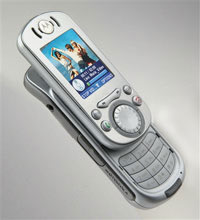 Sporting a 'slider' form factor, the E725 is a music player-cum-smartphone featuring a 1.9″ display (176 x 220 pixels resolution) with dedicated music keys, 5-band graphic equaliser and dual stereo speakers with virtual surround sound.
The E725 offers support for CDMA2000 1xEV-DO which – in English – means that it can rapidly download full music tracks over the air directly to the handset. Naturally, users can also sync the handset with their PCs and make use of the memory expansion slot supporting miniSD cards up to 2 GB.
All the rest of the features of the E680i are present and correct: an FM radio, a 0.3 MP camera, a 3.5 mm earphone jack, USB, a memory expansion slot (supporting miniSD cards up to 1 GB) and the same dual stereo speakers with virtual surround sound.
The E725 also sports a set of daft 'rhythm lights' for funky disco people who think its waaaaay cool to have a series of LED lights pulsating to the beat of the music currently playing.
The E725 is expected to arrive in North America in the second half of 2005, but, once again, Motorola are being coy about pricing details.