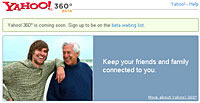 Yahoo has whipped out its wildly wedgified wallet and snapped up the online photo-sharing service Flickr, less than a week after launching a beta test of its new blogging tool.
Flickr lets users upload digital photos from computers, PDAs and camera phones, create their own photo albums, post photos to blogs, and store, sort, search and share your photos online.
Joanna Stevens, a spokeswoman for Sunnyvale, Calif.-based Yahoo, confirmed the deal Sunday: "We look forward to working with them for their innovation and product development across the Yahoo Network in the coming months," she said.
Stevens said Flickr will remain a standalone site for now. The company's employees, however, will have to up sticks to Sunnyvale later this year.
Yahoo's existing photos hosting and sharing service, Yahoo Photos, will gain features from Flickr, although the two services will remain separate "for the foreseeable future."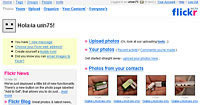 There will be some early integration, however, with the ability to log into Flickr using a Yahoo ID and password.
According to Caterina Fake, Flickr's vice president of marketing and community, users of the company's free and paid-for services will get more space, while prices for professional accounts are expected to fall.
This announcement comes less than a week after Yahoo announced Yahoo 360. This service combines a new blogging tool, along with long-established Yahoo products such as instant messaging, photo storage/sharing and Internet radio.
The service also includes social networking tools for sharing recommendations about places to eat, favourite films, fab music, great clubs (like London's Offline, for example!) and so on.
The acquisition of Flickr (and parent company Ludicorp Research & Development) and the development of the Yahoo 360 service reflects a growing interest in social networking and blogging services.
Microsoft added a blog product for its MSN Web service in December, called MSN Spaces. Google, meanwhile, owns the hugely successful Web log service Blogger and social networking site Orkut.