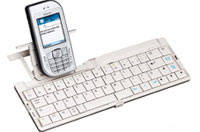 Incorporating not one, but two digital cameras (VGA on the front 1.3 megapixels to the rear), the handset was showcased a month ago at the 3GSM World Congress in Cannes.
The stylish new smartphone features two-way video-calling and sharing, push email, a crisp 262,144-color display (176 x 208 pixels), MMC card slot, plus a 1.3-megapixel snapper with flash and 2x digital zoom.
Whereas many 3G handsets prompt the question, "Is that a 3G phone in your pocket or are you just pleased to see me?", the 6680 is a bit of a miniature marvel, measuring up at a Y-front unruffling 10.8 x 5.5 x 2.1cm – one of the smallest 3G handsets around (although not quite as teensy-tiny as Sony Ericsson's upcoming K600i).
Running on the Symbian Series 60 OS, the smartphone comes with a personal organiser, video streaming and Internet browser, with a range of funky 3G-enabled features such as two-way video calls, video sharing and push email.
Using XpressPrint or PictBridge, Nokia phone snappers can print pictures, emails or contacts directly from the 6680 using a range of compatible printers or photo kiosks via USB and Bluetooth – or by simply whipping out the MMC card and slapping it in a card reader.
Joe Coles, director of imaging product marketing at Nokia, was at hand to get suitably enthused: "The Nokia 6680 enables the full benefit of high-speed 3G networks to be enjoyed with a wide range of multimedia services, including video, email, music downloads and internet browsing."
"We are very pleased with the fantastic demand for the Nokia 6680, and expect it to be widely available in all the major 3G markets around the world."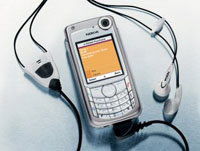 Mindful of the fact that trying to write long emails on a handset's tiny buttons is as much fun as counting ants, Nokia have also announced their new SU-8W Wireless Keyboard.
This small, lightweight add-on folds out to provide a near full-size keyboard, which connects to the phone via Bluetooth.
It must be said that while these fold out keyboards are really handy things to have, they look about as cool as a comb-over in a gale. So use yours discretely!