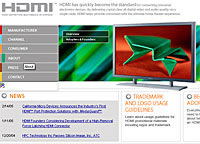 Silicon Image has introduced its new Sil 1390 and 1920 transmitters, chip-based platforms capable of transmitting Intel's SDVO (Serial Digital Video Output) and HDMI (High-Definition Multimedia Interface), respectively.
HDMI is being pushed by the content industry as the 'upgrade' of DVI (Digital Visual Interface). Sure, HDMI offer a few more features, like integrating eight-channel Audio and HD Video carried on a single cable, and acting as a conduit to pass remote control signals around, but the main reason for enthusiastic support is HDCP.
In this ever expanding lexicon, why is HDCP important? High-Definition Content Protection keeps digital video and audio encrypted through out the digital distribution chain, up to the point it hits your eyeballs and ears. This is to stop the naughty people that might want to save the content they're paying for (heaven forbid).
Capitalising on growing sales of Media Center PCs and the growing availability of High Definition content for PC platforms, Silicon Image's new series of HDMI transmitters targeted at PCs are the first integrated solution designed to interface directly to the video and audio interfaces of PC platforms. Out of interest, Silicon Image is one of the founders of the HDMI standard.
Silicon Image has also introduced the SiI 1368, billed as (take a deep breath, folks) the industry's first Digital Visual Interface High-bandwidth Digital Content Protection (DVI-HDCP) transmitter designed for PCI-Express graphics chipsets supporting Intel's Serial Digital Video Output (SDVO) interface.
All three transmitters support the full 25-165 MHz HDMI and DVI bandwidth. The SiI 1390 and SiI 1930 transmitters also support a wide variety of audio interfaces-including HD-Audio, SPDIF and three I2S channels-to ensure compatibility with a broad range of PC audio hardware platforms.
"As PC users gain access to HD content, secure content delivery on PC platforms will be an important issue," said Neerav Shah, president of Digital Content Protection, LLC, the licensor of HDCP.
"HDCP already has the support of content providers in the consumer electronics market and has emerged as an important technology in enabling consumers to access HD content.
We expect HDCP will similarly become a requirement on PC platforms capable of receiving and playing HD content. As a contributor to the HDCP specification and having developed HDCP test protocols for its PanelLink Cinema Partners test center, Silicon Image can help enable PC platforms to access the growing volume of HD content.
With the availability of new HD content and the popularity of Microsoft's Windows Media Center Edition (with integrated HDTV support), the market for entertainment PCs is projected to grow from 7.9 million in 2004 to 59 million in 2008.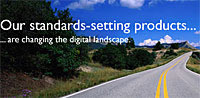 You may think, "what do we need another effing' cable for?" but with more HD content becoming available, the PC market will require PCs to support HDMI or DVI with HDCP in order to access this content.
With its single cable coupling multi-channel audio and uncompressed HD video and small connector, HDMI is poised to become the de facto multimedia interface for both PCs and consumer electronics devices-enabling PCs with true entertainment and multimedia functionality.
"All the signs indicate that 2005 will mark the year HDMI gains a foothold in PC platforms," stated Joe Lee, Silicon Image director of product marketing, PC and display products.
"Our family of new HDMI products for the PC supports our corporate strategy of enabling secure delivery of digital content on any and all platforms, including Windows Media Center and other Intel architected desktop PCs, notebooks, set-top boxes and media adapters."
Silicon Image, HDMI Standards
Silicon Image Press Release
hdmi.org