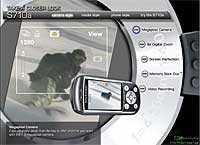 We know that camera phones are getting better and that the Ericsson S710a Camera Phone has a better one than most, but this over-excited PR bonanza from Sony has rubbed us up the wrong way.
Here's the story: Sony have waved enough bags of gold at award-winning photographer Robert Clark to entice him to trudge across North America capturing "spontaneous" pictures through the viewfinder of a Sony Ericsson S710a camera.
Now, you may think getting a top photographer to go around taking pictures and then slapping them up on a Web site is fairly unspectacular stuff, but Sony's press department clearly doesn't agree.
"A New Era of Digital Photography Begins Today" screams their hyperbolic announcement, "Join Robert Clark as He Travels Across North America, Spontaneously Discovering Life as It Happens".
We're not quite sure what 'Spontaneously Discovering Life as It Happens' entails. Maybe he'll be stumbling across new life forms with every step or be in a constant state of astonished delight as wonderful creatures 'spontaneously' appear before his eyes.
Mind you, this Clark fella appears equally keen to join in the mutual PR lathering:
"It is truly exciting to have the opportunity to undertake such a prolific journey across North America, and have the opportunity to capture the people, places and things that make this country unique," purred Robert Clark.

"The camera phone is revolutionising how we see the world, allowing us to capture intimate moments more spontaneously than ever before. This tour aims to be a defining moment in the era of digital photography – elements of American life all captured with a high performance Sony Ericsson camera phone."
Quick as a flash, Sony's Vice President of Marketing for Sony Ericsson, Frances Britchford, was on hand to further inflate the wild claims being made for this blatant publicity stunt:
"The Image America tour, and our partnership with the very talented Robert Clark, provides a unique opportunity to capture the essence of the United States and Canada through something that most of us now consider essential to our lives – the cell phone".
And just when you thought he couldn't get any further carried away, he rolls out this spectacular piece of convoluted PR guff:
"For experienced photographers or true photo novices, the S710a is the perfect tool to capture life's moments as they happen."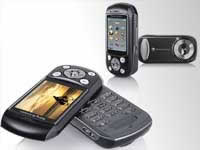 Now we like the Sony Ericsson S710a phone. It's a great phone.
In fact, it's a nicely designed, well specified, fully featured smart-phone with an above average camera that is fine for taking holiday snaps and photographs of your mates getting drunk. And that's about it.
It is not – and never will be – "the perfect tool for professional photographers".
With a resolution of just 1.3 megapixels it sits near the bottom of the pile of even the cheapest digital cameras, so the only professional photographers likely to be using this camera are the ones being sponsored by Sony.
Despite the ludicrous blurb, it's a fairly safe bet that Clark will produce a fine set of pictures that will put almost all camera phone photographers to shame.
No doubt his years of experience producing work for esteemed magazines like National Geographic and Sports Illustrated will get the very best out of the Sony phone and the 'commemorative book' he's knocking out at the end of his tour will be a fine looking thing (although the cynical amongst us wonder how much pre-publishing Photoshoppery will go on behind the scenes).
For consumers looking for a handy camera/phone combination capable of producing reasonable quality 6″ x 4″ prints, the Sony Ericsson S710a is a fine choice. Professional photographers should, however, look elsewhere.
Sony Ericsson S710a photos
Robert Clark at American PHOTO
Sony Ericsson Image America