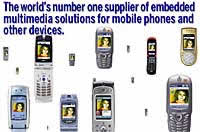 In their 2005 "State of the Company" address just made public, PacketVideo bigged up their successes in 2004 and mulled about the future of mobile multimedia.
Clearly, 2004 was a time of happiness and joy for PacketVideo, with the company announcing that 17 million phones embedded with PacketVideo media software were shipped by top handset OEMs worldwide in 2004.
PacketVideo also helped launch five 2.5G and 3G multimedia services, including the recent Verizon V CAST video-on-demand (VOD) service in the US, and the OrangeWorld service on Orange Signature phones in 2004 and early 2005.
PacketVideo is the numero uno supplier of embedded multimedia communications software for mobile phones with more than 60 'design wins' and 17 million handsets shipped in 2004.
The company's software enables mobile phones to take digital pictures, record home movies, play back digital music and videos, and make two-way videophone calls.

PacketVideo specialises in building and 'commercializing' (we think that's American for "selling") multimedia capabilities such as VOD, music on demand (MOD) and two-way video communication and messaging.
"These much-anticipated multimedia services, made possible by the growing availability of 3G networks, are finally a reality for millions of people around the globe," trumpeted Dr Jim Brailean, CEO of PacketVideo. He continued, "PacketVideo's software is at the heart of delivering these new and innovative services that let customers download, play, and share streaming audio, video and live broadcasts on their mobile phones."
Looking to the future, PacketVideo expects continued growth and technology innovation, and anticipates an increase in both lovely lolly and market share.
"We believe 2005 will be the year of multimedia services such as VOD, MOD (Movies On Demand) and two-way video telephony. We will see the multimedia technologies permeate all levels of handsets, allowing more and more consumers to take advantage of the multimedia capabilities," enthused Brailean.