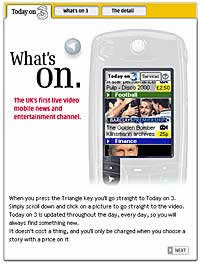 UK 3G operator 3, proudly trumpeted the fact that more than 10 million music videos have been watched by its customers on their mobiles since the launch of its Video Jukebox service only six months ago.
Cocking an industrial-sized snoot at all those naysayers who declared that people were more likely to poke their eyes out with a rusty nail than watch videos on phone, this represents a huge growth in the market.
Naturally, 3 are keen to build on their success and have announced a new agreement with SONY BMG Music Entertainment UK which will double the list of artists whose music videos are available for fans to download or stream onto their video mobiles.
Sony has a bumper pack of artists on its rosters, allowing 3 customers to shake their mobile booties to the likes of Destiny's Child, Lemar, Manic Street Preachers, Natasha Bedingfield and the Zutons. And, err, Britney Spears.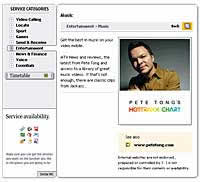 Not all of these videos will be available concurrently, however, as 3 have an editorial team selecting popular content for their 'Today on Three' service. This normally gives users the choice of between 40-60 videos, with the video selections changing regularly. 3 told us they found customers are interested in videos that are "the latest, and then they move on", only being interested in "what's current."
3's Chief Operating Officer, Gareth Jones enthused: "Thanks to our innovative jukebox service, we've created a significant mobile audience for music videos in just six months. We're offering the latest music videos, on demand, straight to your mobile, and our customers are lapping it up."
Clive Rich, Senior Vice President, SONY BMG Music Entertainment UK also underlined their company's support for mobile music downloads, "It's clear now that there is huge consumer demand for mobile music and it is our policy to deliver our artists' videos and music to their fans anyway, anyhow, anywhere – at any time. This market will continue to grow."
We asked 3 for a breakdown of how many people were paying each time they played a video, and how many had taken advantage of the fixed price, "all you can eat", five pounds a month deal. Surprisingly they didn't have that information yet.
We have to admit that we were surprised by this enthusiastic uptake, but questions remain as to how many of these downloads were simply people taking advantage of the free video deals currently offered to new subscribers. We'll have to see if they continue to download at such an enthusiastic rate once they have to start paying for it.