The Smart2Go Personal Navigator is claiming to be the first mobile navigation system to combine satellite navigation with an extensive travel guide. For travellers who don't know their A-Z from their GPS, the Personal Navigator promises to make finding your way around town a breeze, with routes, directions and 3D maps being generated at a click of a button on your PDA/smartphone.
Initially running on Series-60 Nokia phones, the package is supplied with a separate GPS location device that uses Bluetooth to find its precise location. Instead of just serving up a boring old route from A to B, the Personal Navigator digs into its database (compiled by Tele Atlas) to dish up a load of useful local information to guide users to petrol stations, banks, car parks, etc.
Hard drinking, wild-living road warriors will be pleased to learn that the program can serve up details of nearby pubs and nightclubs, while more cultured types will enjoy looking up museums, tourist sights, shopping information.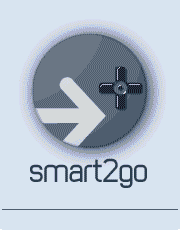 Additionally, Personal Navigator can also provide recommendations, updated daily, for events in culture, sports and more – and if you fancy meeting up with your friends, smart2go can send them route details by sms or e-mail.
Although Smart2Go is a fully fledged satellite navigation system, it can speed up route calculations by utilising its own maps, stored in memory, rather than making the user wait (and pay) for a connection to an external server.
Maps of many European countries and the United States are already available. Locations can be entered through the keypad and the resulting navigation directions are spoken loudly and clearly (available in four languages).
Smart2Go are clearly going for the mass market with this application, as it runs on all Nokia Series60-Standard smartphones with Bluetooth and SD/MMC slot. The company is also promising versions of smart2go for MS Windows Smartphone, PocketPC, Nokia Series 80 and Palm OS in the near future.