Much to everyone's surprise, Nokia has just announced at 3GSM that they are to put Microsoft's Media player software on their handsets.
Prior to this, Nokia has had a long running, and seemingly-solid relationship with Real Networks.
Music bought in either format will be invisibly exchangeable between mobile phones and Microsoft's media player.
Microsoft Digital Media big gun, Amir Majidimehr was brought on stage to explain that Microsoft would be creating a software 'bridge' between their digital music format/DRM and OMA, the mobile worlds chosen DRM.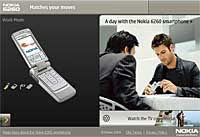 In return Microsoft will also be supporting OMA DRM and AAC music format in their Windows Media player, via a plug in.
When asked about how this would affect the relationship with Real, Olli-Pekka Kallasvuo, Executive Vice President & General Manager, Mobile Phones said that as an open platform, Nokia was happy to work with all audio players. Quite if Real will be as casual and off-hand about it, is highly doubtful.
We suspect there will be much shouting and screaming at Real Networks.