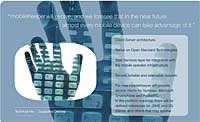 If you've ever had your phone stolen, left it in a cab or, like a colleague of ours, managed to send it spinning down the u-bend whilst attempting a tricky feat of toilet-based multi-tasking, you'll know the pain of unexpectedly parting company with your phone.
Although losing a phone is not only an inconvenience, losing the stored messages, photos and personal data stored on it can be irreplaceable – so forgetful, crime-attracting drunks should be delighted by the release of media is generated on mobile phones, this type of application will become even more useful.
Created by MobiComp, a leading mobile computing and wireless solutions provider, the Symbian-signed, MobileKeeper client-server solution enables operators to guarantee safekeeping of increasing volumes of valuable information stored on subscribers' phones.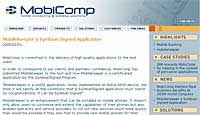 Working as extended storage for the mobile device, the application offers "over the air" data backup for the mobile device allows storage and recovery of contacts, calendar, tasks, SMS, MMS, ring tones, images, videos, J2ME applications and anything else you can fit on your phone.
MobileKeeper's main functions include ' Keep It' (replicates all/defined information), 'Get It' (recovers all/part of stored data), 'Explore It' (works as a File Explorer allowing to keep, get, move, delete items) and Profiles (allows the user to define several profiles for storing/recovering/scheduled backups).
The application relies on open standard technologies, with a client-server architecture, and Web services layer for integration with the mobile operator infrastructure.
MobileKeeper is currently on trial with a number of European mobile communications operators.
With the advent of longer pub licensing laws in the UK, we suspect there may be a growing demand for this kind of product.