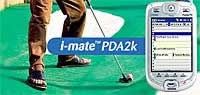 Skype has announced a partnership with i-mate, industry innovators of wireless device solutions.
i-mate will launch the first dual-mode wireless mobile handset preloaded with Skype software and demo it for the world at 3GSM in Cannes from Monday 14th February through Thursday 17th February.
The new i-mate PDA2K and PDA2 handsets will come preloaded with Skype's award-winning software, allowing users to fire up Skype and get phonin' as soon as they've wrenched the unit out of the box.
The handsets, expected to retail at a wallet-draining price of $850 (€660, £455), are enabled in dual modes – GSM/GPRS and Wi-Fi – and both use the Windows Mobile Pocket PC Phone Edition.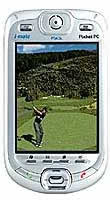 The two companies worked for several months to integrate the software with the handsets and have provided a solution that will, in some circumstances, enable calls made over GSM and GPRS technology to be free, while others will be subject to small charges.
Skype users can call other Skype users for jack diddly squat, while another service, called SkypeOut, enables users to call to public-switched telephone networks for slightly more than two cents a minute.
The VoIP market is currently growing faster than Billy Bunter's waistline on Bun Eating Day, with businesses and individuals keen to get a slice of the cheap call action.
The Skype service is already making noticeable inroads into traditional phone traffic, with more than one million users on the Skype service at any given time.
The peer-to-peer software is available on Windows, Linux, Mac OS X, and Pocket PC platforms and is the fastest growing voice communications offering worldwide with over 67 million downloads, since its launch in August 2003.
So the program is a hit. Everyone wants it. But how are they going to make money out of something they're giving away for free?
It seems that Skype's solution is to create an income stream through licensing their software on to other platforms.