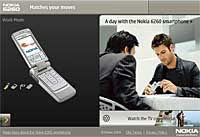 If you've ever wished that your answerphone message mumblings could have a bit more pizzazz, Nokia's new 7710 handset. Xpress audio messaging could become another tool in the podcasters arsenal, enabling podcasting on the move, without a PC. It will all be down to the power of the audio editing software. We're keen to get our hands on it to see if our hunch is confirmed.
For the straight messaging, Nokia clearly hopes that this will give them some leverage in the highly competitive – and lucrative – youth mobile phone market:
"Nokia Xpress audio messaging enables operators to differentiate their service offering from competitors, by utilizing existing infrastructure," explains Juha Pinomaa, Vice President, Mobile Phones, Nokia.
"For consumers, Nokia Xpress audio messaging combines ease of use, affordability, and adds a personal touch to greetings, congratulations, or allows to share a special moment like a grandchild's first words."
Recorded audio messages can be sent to all MMS-enabled GSM handsets and stored and replayed as easily as any other multimedia file, and Nokia will be introducing support for legacy phones within its MMS solution.
The Nokia Multimedia Application Gateway will also enable sending audio messages to phones that do not support MMS, therefore letting even more people hear your pre-recorded masterpieces.
Nokia is so far, the only MMS infrastructure provider to offer legacy support specifically designed for audio messaging. The new audio messaging menu will be integrated in several Nokia handsets introduced in 2005.