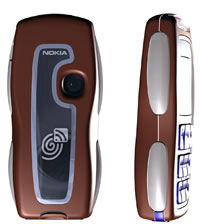 The world's first Near Field Communications (NFC) product for payment and ticketing will be an enhanced version of the already announced Nokia NFC shell for Nokia 3220 phone.
Near Field Communications (NFC) may sound like something the Borg use to transmit their evil plans to each other, but in fact it's a new short-range wireless system for electronics, mobile devices and PCs.
Whereas Bluetooth and Wi-Fi have a range anywhere between 33 feet and 300 feet, NFC only works much closer to home. A mere eight inches, in fact, which makes it great for conducting local transactions, like buying travel tickets.
Here's how it works: a consumer's payment credentials, such as their debit and credit card details/transport tickets, are securely stored in the integrated smart card chip of the Nokia NFC shell.
Users sporting the new phone can then make local payments by simply touching a point of sales device or ticket gate with their phone. Fast, quick and efficient (if it works, of course).
Naturally, the Man from Visa is visibly purring with excitement, "Visa is always looking for exciting, first-rate innovations that advance the field of contactless payment and we are pleased to join forces with Nokia in this pioneering effort," said Jim Lee, senior vice president, Product Technology and Standards, Visa International.
"The development of the Nokia NFC shell serves as a natural extension of Visa's contactless card and phone programs around the world. Moreover, it aligns well with Visa's commitment to enabling payments anywhere, anytime, through any device."
The first NFC-based public transport ticketing trials with Nokia 3220 mobile phones will be taking place within the local bus network in the city of Hanau, near Frankfurt, Germany, with the Nokia NFC shell for payment and ticketing promised for mid 2005.
Nokia 3220
Nokia NFC demo
Nokia NFC
Near-Field Communications
NFC Forum