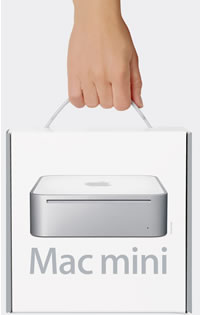 In what isn't a surprise move Steve Jobs has announced the Apple "Mac Mini", a low cost addition to the Macintosh computer range. Priced at $499 (~€380, ~£265) and $599 (~€457, ~£319), it can sit in the palm on your hand (measuring 6.5 inches (16.51 cm) square and just 2 inches (5.08 cm) tall and weights just 2.9 pounds (1.32 kg). True to form for Apple, it looks great.
Disappointingly Apple plan to sell the Mac Mini for £339 (~$634) and £399 (~$746) in the UK. Which, when converted back in to dollars at current exchange rates, don't sound quite so sweet. Quite why UK uses will have the privilege of paying more is currently unclear.
The bargain-basement prices are because it comes with quite a few things not included – like keyboard, mouse, screen – or "BYODKM, bring your own display, keyboard, and mouse" as Jobs put it.
What do you get for your money? The different prices give you either a 1.25GHz PowerPC G4 or a 1.42GHz (you know when they're talking about 0.02 of a GHz they're talking about a budget machine) processor and a 40GB or 80GB hard drive. Two included optical drives are available; a combo, that reads CD & DVD and writes CDs; or a SuperDrive, that reads and writes CDs & DVDs.
Interestingly, the video output is via DVI (Digital Video Interface) and support up to a 1920 x 1200 resolution. DVI is used on many Plasma TV and large LCD screens as the standard interface. Additional adaptors will enable the DVI to be connected to a VGA, S-video and composite video output.
Cleverly they are including lots of software – iLife 05 ( iTunes, iPhoto, iMovie, iDVD and GarageBand); Quicken 2005 and AppleWorks 6, providing word processing and spreadsheets.
It's connectors to the outside world are – One FireWire 400 port and two USB 2.0 ports. The keyboard and mouse (extra cost) can be connected using these. An optional internal Bluetooth module enabled the connection of a wireless keyboard and mouse. 10/100Mb Ethernet and a 56K modem.
Wireless networking is possible using the internally fitted AirPort Extreme Card – which comes at extra cost.
We see this as Apple's chance to cash in on all of the non-Macintosh owning iPod users, whether they be computer-virgins or current PC owners who are looking to upgrade.
We were wondering what the final cost of the machines would be when spec'd up with wireless networking, etc. It appears that many other people around the planet were thinking the same thing, as the ordering section of the online Apple Store has fallen over from the demand.
This baby is going to sell – by the truck load. First truck load arriving 22 January 2005.