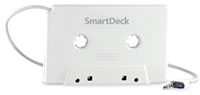 Griffin Technology has announced what they call SmartDeck Intelligent Cassette Technology.
At first glance it appears to be a "seen it" product, a bit of audio cassette-shaped plastic that you pop into your cassette player to let you play the music you've got on your digital music player.
Take another look beacuse this device is smarter than that. Rather than having to fumble for the control on your iPod while you should be concentrating on things like … driving. This little beauty lets you use the buttons on your cassette deck to control your iPod. The fast forward and rewind buttons take you to the next or previous playlist track; the Stop and pause buttons do as would be expected; and hitting Eject or selecting car stereo's radio also put the iPod on pause.
How does it do it? The cassette adaptor has sensors on it (note the teeth inside the holes in the middle of it) and passes this information down a single white cable to the four-pin top accessory port on the top of the iPod. Clever isn't it?
Griffin are also claiming it automatically sets optimal volume on the iPod for best audio quality and the devices innards are the highest-quality to give crystal clear quality sound.
It should be available in the second quarter of 2005, priced at $24.99 (~€19, ~£13.50). If you can't wait until then to see it, it's going to be on show on Booth #1917 at current MacWorld show.