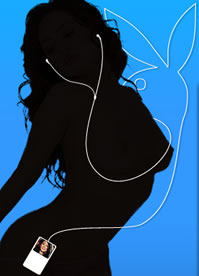 It's not that we're surprised by this news, but it did send a ripple of laughter around the Digital Lifestyles offices today.
In this world of new words being made up on what feels like an hourly basis, PlayBoy brings us iBod.
Not surprisingly, their newly launched service entails delivering photos of scantily clad women to Apple's Photo iPod. It's nothing more than that really.
For years, many have been enthusing about the huge revenues that will come from delivering p0rn to portable devices, based on the one-to-one relationship that people have with them. A few years back, when 3G operators the world over worried about how to make up the huge fees they had paid for the licences, some joked that 3G stood for Girls, Goals and Games.
Playboy already sells to major wireless markets such as Germany, the United Kingdom, Australia and Brazil. They recently announced that they will now offer the same in the US.
The fantastically-named Randy Nicolau, president of distribution for the Playboy Entertainment Group said "Given the extraordinary success we've had with our wireless offerings around the world, we felt the time was right to expand our wireless content to the millions of U.S. subscribers."
To the best of our knowledge the Photo iPod isn't waterproof, but the Click Wheel is well known for its single hand operation.