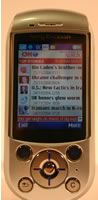 CNN has launched a news service over Europe that delivers the top ten CNN headlines to mobile phones without a subscription charge.
The phone owner will receive the 10 top stories of the day as chosen by the CNN.com site editorial team. If the application is kept 'live', ie. running on the handset, it will continue to receive news updates. When the GPRS (General Packet Radio Service) is turned off, either by the user or because they drop out of range, the news items remain accessible, as they are stored on the handset.
The process of signing up for the service sounds simple. The phone user sends an SMS requesting the service and a returned WAP link takes the phone to a Java application that is automatically downloaded to the handset. The news is then delivered to it using the data-only GPRS otherwise know as 2.5G.
Consumers will not have to pay a subscription charge for this service, as Xerox will be sponsoring it. In return Xerox will have their logo displayed as the service starts, on the home page and on the individual news pages. Xerox is paying a fixed price for the deal, which doesn't vary on the number of people who sign up for it. Although users of the service can click through to a page of information about Xerox, which they have editorial control over, the real driver for their involvement is the association with the CNN brand and a leading-edge application of technology.
CNN have been pretty adventurous in distributing their news product to many platforms. CNN mobile currently offers a breaking news service to mobiles via SMS, which it charges Euro 4.75/month. In Austrian, Finland, Italy and the Netherlands, mobile owners are able to watch CNN on their handsets via their GPRS video streaming service.
There will be those in the mobile content world who will find this type of deal a little disturbing. They are currently very pleased that consumers appear to associate mobile content with paying – in stark contrast to Internet based content. If the consumer starts being offered quality content for no money, they might get used to it.
Expect more deals like this from media owners, as Kevin Razvi, head of CNN International ad sales says, "Our expanding portfolio of wireless businesses exposes advertisers directly to a broad consumer base through a highly relevant service for an increasingly mobile and technically-savvy target audience."