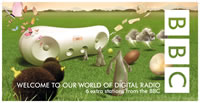 The BBC will be launching a multi-format campaign starting at the end of November to promote Digital Radio in the run up to Xmas. It's being previewed in London today.
Running across TV, radio, online (including the BBC home page) and posters, it will be a comprehensive campaign. The TV element, which airs this Saturday, will use animations of a computer-generated world to relate its message, marketing news site mad.co.uk reveals (reg. req.). In the piece, Robert Senior, the managing partner from the company that created the campaign, Fallon, goes on about a "wider spectrum of emotions" – but that's quotes from marketing publications for you.
An industry insider tells us that this year the BBC will highlight what makes DAB special, rather than just talking about their additional channels, as happened last year. DAB features such as digital-quality sound and scrolling text should be highlighted.
This is a big year for DAB in the UK. Each of the major electronics retailers will be featuring DAB equipment prominently in their advertising. This year DAB receivers have also been in all of the glossy magazine with them falling over themselves to feature DAB in their publications. Last year they wouldn't touch it.
The BBC's isn't the only campaign. The Digital Radio Development Bureau (DRDB) will be running a campaign over 257 commercial radio stations around the UK telling all and sundry that receivers can be bought for 'under £50'.
The desired effect of all of this should be two fold. To give a boost to the sale of DAB receivers, at a time people are starting to think about presents for their friends and relatives; as well re-reminding the UK public that there is a wider variety of radio content available over DAB than on the analogue channels.
We learnt from the DRDB that 801,000 DAB units had been sold in the UK in the year to September. Their sales target for this year? "We're aiming for 1 to 1.2m units before the end of the year" Ian Dickens, Chief Exec of DRDB told us.
With over 100 models now available in many different forms factors, they've got a strong chance of hitting it.