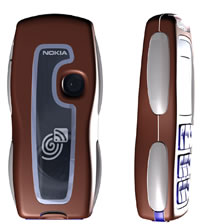 Nokia has lifted the lid on the world's first NFC (Near Field Communication) equipped mobile phone by adding the special NFC clip-on shell to their 3220, a tri-band camera phone that is available in two versions (Euro/Asia & America). With its build-in NFC shell, the phone is the latest step in the development of innovative products for mobile communications.
NFC is essentially a contactless technology that allows for short-range two-way wireless connectivity using a tag and a reader. Developed jointly by Philips, Sony and Nokia, it is based on short-range (10 cm, 3.9") radio frequency (RF) technology, an NFC-enabled mobile device lets you access services or operate your mobile device by placing it near a tag or share information by bringing two devices close  to each other. When you're near a tag, your mobile phone reads the tags content by emitting a short-range radio signal that powers up the tag's microchip, allowing you to execute an action, such as opening a Web page, calling a number, or sending an SMS. The opportunities for the Media business, in particular advertising are immediately obvious. People passing posters, wanting to find out more information are able to directly request it there and then, at the point of impulse. It could them be immediately delivered by bringing up a Web page of info or received via email for later consumption. Vivendi Universal has also trialed selling tickets to films, simply by placing the phone on a NFC spot on a film poster. Similarly, by communicating with an enabled device such as a TV, the mobile device can send a picture to it  It is currently unclear to us how much bandwidth will be offered by NFC, but we would assume it will be low, being more along the lines of ZigBee than Bluetooth. If this is the case, transferring a 1Mpx image will be a slow and painful process.
NFC is different from other contactless or RFID technologies in that it has a very short operating distance and also allows two devices to interconnect. The effective distance of an NFC solution depends on the tag design and the reader, but is only a few centimetres in Nokia's solution.
The potential benefits of the technology include improved usability, easier access to services and content via physical objects, convenient sharing of digital items between devices by bringing them next to each other – such as swapping electronic business cards with clients – and local payment and ticketing capabilities. This has already been trialed in the Frankfurt transport system.
"Touch-based interactions will improve the consumer experience of existing services and create new opportunities for users to benefit from their phones. This technology has the potential to significantly improve the way operators provide and users discover and activate different mobile services," said Gerhard Romen, Head of Market Development at Nokia Ventures Organisation. 'By introducing the new Nokia NFC shell, Nokia clearly demonstrates strong commitment to offer users an intuitive wireless experience." Samsung Electronics has also mentioned that it intends to manufacture NFC phones.

Tech Background to NFC – NFC technology evolved from a combination of contactless identification (RFID) and interconnection technologies. NFC operates in the 13.56MHz frequency range, over a distance of typically a few centimetres. NFC technology is standardised in ISO 18092, ISO 21481, ECMA (340, 352 and 356) and ETSI TS 102 190. NFC is also compatible with the broadly-established contactless smart card infrastructure based on ISO 14443 A, which is supported by Philips' MIFARE technology and Sony's FeliCa card.