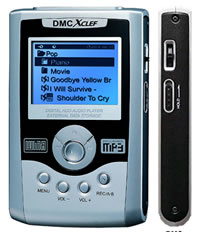 Just when you were find it tough to find enough music to fill your 40Gb iPod, Digital Mind comes along with the DMC Xclef 500 portable MP3 music players. Christened "big brother" it has the largest available storage space of any portable music player on the market. With a price tag of $449.00 (~€355), this bouncing 100Gb baby is capable of holding more than 25,000 music files, so now all you need is the time to listen to them – close to two months of 24 hours a day listen.
The Mac- and PC-compatible digital music player sports a traditional build because it uses a standard 2.5-inch laptop hard disk drive mechanism, and has already eclipsed its older sibling 80Gb released earlier this year with an incredible 80 gigabytes. With this kind of capacity, it's more likely that it will be used to either carry data files or backup the entire hard drive of your computer.
Xclef 500 connects using a USB 2.0 interface and also accepts input from a built-in mic, line-in audio connector and S/PDIF optical mini plug.  The 20 hour plus battery life uses a rechargeable lithium-ion battery, and supports built-in MP3 encoding, voice recording, and FM radio.
Xclef 500 supports MP3, WMA, Ogg Vorbis, WAV and ASF audio file formats. AAC format, including those Digital Rights Management protected files purchased through iTunes, is not supported.
Since it is recognized as a USB mass storage device, files can be moved easily between PCs and Macs. Its intuitive user interface allows the user to start navigating through files and playlists almost immediately.
Of course the cynical might say that the huge capacity of this device, which is larger than most laptop drives and many desktop machines, is unnecessary, but as we know, available space is always filled, even if what fills it becomes worthless.