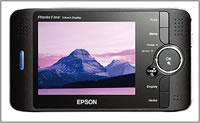 Designed as a replacement for Epson's P-1000, the imaginatively named P-2000 has higher capacity storage, a faster interface, two memory card slots and the ability to view, store and playback photos, videos and music.  If you are still nostalgic about the black and white photos taken in the back garden with the Brownie camera, just think of the multi-sensorial memories your kids will have.
Powered by a lithium ion battery, the P-2000 features a 40GB hard drive that can store thousands of photos, sparing the next generation the task of transferring all those unlabelled photos from plastic bags and cardboard boxes into albums. The built-in memory card slot supports Compact Flash Type I and Type II and Secure Digital memory cards, allowing you to transfer files quickly without having to connect to a computer.
Budding amateur film-makers can zoom and rotate images, create a slideshow with music and share images on an NTSC or PAL television screen, monitor or projector using an optional third-party cable. And surprise, surprise, you can also print directly to supported Epson printers.
Epson have a long tradition in LCD technology having introduced the first LCD digital quartz watch over 30 years ago, in the early 1970's.  The 3.8″ Epson Photo Fine LCD screen displays images up to 8.9 megapixels and supports JPEG and RAW image file formats, MPEG-4 and Motion-JPEG video files, plus MP3 and AAC audio files. The P-2000 connects to Macs or PCs using a USB 2.0 interface for transferring photos, videos and audio files.
The Epson P-2000 display offers three colours per image pixel and a higher density of 212 pixels per inch, compared with one colour per pixel and 80-100 pixels per inch on a typical digital camera display. This gives it the ability to display up to 262,144 colours and an impressive, high-resolution image.
The Epson P-2000 will be available in early November for a price of $499 (~€395).