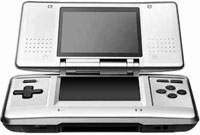 Announced last January, the Nintendo DS goes on sale in the US on 21 November and in Japan on December 2nd, with a price tag of $149.99 (~£84, ~€122), while Europe must wait until early 2005.
The Nintendo DS has heralded a season of innovations.  It will be a two active screen portable gaming device (building on their game & watch dual-screen history), and the first time such a launch is happening outside of Japan. A new level of sophistication incorporating voice recognition and multi-player wireless features has been brought to the handheld game console market. As well as the touch screen allowing for touch input using a stylus, and embedded microphone for voice recognition control, it has chat software that caters for up to 16 simultaneous users. A flip-top cover protects both screens, while two speakers on the unit's face let you hear virtual surround sound.
At 148.7mm (5.85 inches) wide, 84.7mm (3.33 inches) long, and 28.9mm (1.13 inches) tall, the Nintendo DS has a wireless range of 30 to 100ft (nine to 30m), so that multiple users can play multi-player games using one DS game card.
While it is not meant to be successor to the GameBoy Advance, it can play games from the current
GameBoy Advance series. New games will come from 100 different companies, while Nintendo itself is developing 20 titles.
If you have no more spare cash after splashing out on the Nintendo DS you can still get stuck in immediately because it comes with a free software feature, PictoChat, embedded in the system hardware.  PictoChat allows you to write messages using the on-screen keyboard or the stylus, and send them wirelessly to other DS users nearby, as well as getting started on text chat.  The  Nintendo DS doesn't snooze on the job either.  When in sleep mode it will wake up if it senses another DS in transmitting range.
Nintendo will have a battle on their hands as Sony will be releasing the equally heralded portable entertainment device, the PSP.