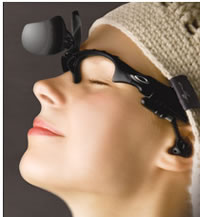 Oakley sunglasses wearers may soon be able to see music as digital music eyewear is launched. Back in July rumours were circulating that Oakley would produce the new glasses but it wasn't until September that details emerged online. 
The Oakley Thump is the world's first digital music eyewear. The wireless device has optics forged with an integrated, state-of-the-art digital audio engine. The new addition in technology means that people are able to listen to music virtually anywhere. A High Speed USB connection allows music to be transferred quickly and easily. The integrated speakers sit by the ears of the person wearing the glasses and they can be adjusted in three directions to balance music with outside noise.
The company are selling glasses in seven colours with polarized tinted lenses. The new digital music eyewear delivers over 60 tracks or about 4 hours of music directly without cables or wires and looks set to be a popular trend. The official specs: USB 2.0, 128MB/256MB of storage. The glasses are lighter than an empty CD case and weigh only 50 grams.
The glasses vary in price with the 128 MB model costing  $395 (£276, €324) and the 256 MB range with polarized lenses cost $495  (£276, €406).