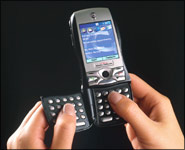 Sierra Wireless' Voq phone, a handset built around Microsoft's Smartphone Platform, has just gone on sale in Holland, through Dutch carrier KPN.
The 5 ounce phone contains a 200MHz XScale processor and has 48mb of Flash memory alongside 32mb of SDRAM – expansion is through the usual SD card slot. The display is 2.2 inch, 64,000 colour LCD. A flipout QWERTY keyboard differentiates the phone from most other handsets, emphasising that it's a business phone for emails. Or for youths that like to send a lot of text messages.
The phone is not yet available in the US – though is expected to be on sale within the next two weeks, priced at about US$500 (€404).