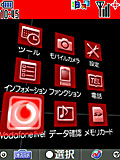 HI Corporation have launched a new 3D menuing system for mobile terminals. The company believes that by presenting menus in 3D, depth of field enhances the users' visual recognition of icons.
The menu application will be used as an extension to its Mascot Capsule Engine, a 3D engine already adopted by the three major carriers in Japan and licensed around the world to Motorola and Sony Ericsson.
The company's plans don't stop there though – it sees potential for the new UI in many other mobile devices with LCDs, such as digital cameras and camcorders.
With applications like Swerve and Mascot reaching phones around the world, I have to ask if advances in menu systems like this actually make using small devices easier, or if it's just a way of selling new devices to customers. After all, people do have a tendency to judge a device not just on its looks and perceived capabilities, but tend to make a decision on its sophistication based purely on its display UI.