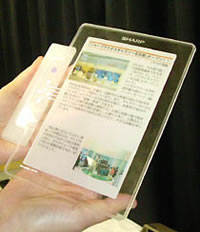 Not to be outdone by Sony, Sharp have announced their own e-book reader. The stunning-looking device is under 1mm thin and Sharp are projecting that it will be available in the shops by 2007.
Any problems with content not being available for it should be lighten by the fact that, In a very smart move, Sharp has already signed up over 7,000 content providers for its Zaurus handheld/PDA.
Clearly from the length of this piece, details are light, but the potential in this field is huge.