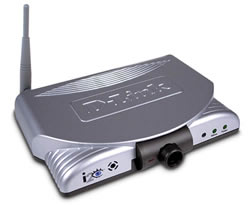 D-Link have launched the first wireless broadband videophone, which plugs into a television and communicates using either 802.11b (WiFi) or 802.11g, working without the need for a PC. The DVC-1100, otherwise know as the AirPlus i2eye VideoPhone complies to ITU-based H.323 protocol for video streaming and can operate at up to 30 fps.
Its support of H.323 protocol which enables it to be used other similar compliant devices or software like Microsoft NetMeeting and requires no service fees, contracts, or subscriptions.
If having a wireless video camera in your lounge makes you nervous, there are several privacy controls, enabling either the audio or video to be turned off independently or to reject all incoming calls by switching to Do Not Disturb.
It is expected to have a street price of $229 (~€185, ~£130).
We feel there is an interesting future for this kind of device, connecting increasingly globally-distributed families. As VoIP comes further to the attention of the general public, and they become more familiar with the idea, the addition of video will be a logical progression for them