Following satellite coverage, but this has not been taken up due to its very high costs.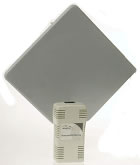 Their new approach is to provide high-speed connections to a central point, then distribute to households that have uninterrupted, line-of-site to the antenna (picture right) mounted on top of the subscribers rooftop. Labelled as P2MP (Point to MultiPoint), it provides a two-way connection that will, in their words, supply connections of a similar speed to 512k ADSL.
For the trial, they are working with Israel-based company, Alvarion, using their BreezeAccess product that operates in the 5.8GHz Band C radio spectrum.
Other similar services have been available around the UK for some time. Firstnet (who were bought by Pipex in August this year) have been running a similar service in densely populated areas around cities including Leeds, Bradford, Nottingham, Reading and Coventry for locations up to 10km away from any of its base. They are offering two-way 512Kbps, 1Mbps or even 5Mbps services.