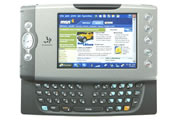 bSquare have launched their Power Handheld in the UK in a deal with Vodaphone. The unit, which had various code names including "Maui" and "Power Reference Design", runs Microsoft CE.NET on its large VGA resolution colour screen and a thumb-driven QWERTY keyboards that extends from its side.
Connecting to the mobile networks using GPRS, it enables its target market, business users, to compose and exchange emails and browse the Web – oh and it is a phone as well. Strangely it does not support either WiFi or Bluetooth, so exchanging content with other computers is via USB or Infra Red (IrDA). Applications, content and the operating systems (OS) can be updated over-the-air as well as via the USB port.
Its size (140mm x 87mm x 19.5mm) and weight (290g) has caused some concern, being that it is too big and heavy to carrying in a pocket. It only has four hours talk time as well.