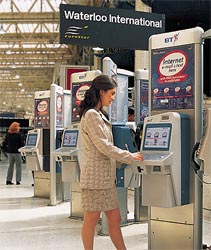 BT have joined up with a partner, Ringtones Online, to offer ringtones, graphics and games for mobile phones. Potential customers will be able to freely browse a dedicated website on the street using the BT Internet Kiosks, then select, preview and purchase their choices. Payment can either be by inserting cash directly into the machine or electronically using credit card, text or by calling a premium rate phone number. Customer will pay £2 for the content, expect for games, which will be £4.50. By offering them from the street they are hoping to encourage the impulse purchasing.
BT has been spending lots of money installing these electronic kiosks in to high street around the UK. Providing a small-form colour screen, trackball and a keyboard, the blue-coloured phoneboxes, which are unusual in the UK, have so far reached over 1,400, with over 90% of them having broadband access.
They see them as a way to offering Internet-based services and products to people who don't have Internet access at home or at work.
We think this is an interesting distribution point that has been gradually adding services, both physical, such DVD rental via lastminute.com and electronic, such as photo & video services, enabling friends to send more animated messages.