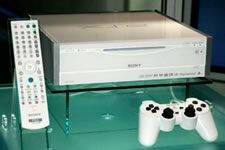 After a number of months of speculation, Sony have released the full details the PSX. Combining the ability to play PlayStation games with a television tuner, PVR, ATRAC3/MP3 playback and a DVD player/recorder, the box will also be equipped with a 100Mb Ethernet port – opening the door to the delivery of digital media.
The visually arresting box (312x88x323mm, weighing 5.6kg) will be launching in two guises; the DESR-5000 with a 160GB hard drive (79,800 yen, ~$730, ~£440) and the DESR-7000 with 250GB (~$900); arriving in Japan by the end of year and in Europe and then US in 2004.
Labelled as PlayStation 2.5 by some, it has already received very positive press reaction, mostly for its styling and features, as they have not had extended use of it. In addition of an Ethernet port, interfaces include USB1.1, Memory Stick slot, digital S/PDIF, PlayStation 2 peripheral connectors, composite AV-in/out.
Nearly all reaction to the price has been surprise at how expensive it is, but we feel this is a misguided as they are viewing it in the context of the currently low cost games console – which is just part of it. Just adding up the constituent parts; PS2 (~£100), TiVo (second hand eBay UK price ~£200); DVD burner (~£150) – it appears about right – especially as the PSX is one sleek box rather that three bulky boxes the separate approach would give you.
We feel the Trojan horse feature of the PSX is the combination of a device that connects to the family TV, the Ethernet port and Sony's significant music and film empires. This would give them total vertical integration enabling the sale of media content direct to the public.