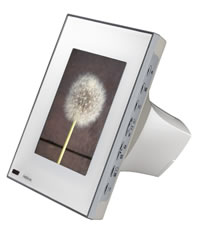 Back in 1999, Sony brought out the first digital photo frame, not that you would probably know about it as there aren't that many around – it cost $900. Since then many more companies have brought them out for considerably less that Sony's initial offering, many of them new companies but also from more well know brands such as Kodak.
Most have used removable memory (Memory Sticks, SD, etc) to get the photos in to the frame, others have had phone sockets on them.
Nokia have now entered the business and have announced the Nokia Image Frame SU-4 and SU-7, which makes perfect sense given their camera phones.
The SU-4 received photo's via an Infra-Red port. The SU-7 is more interesting as it adds to the IR transfer by allowing a SIM card to be inserted into it and use MMS to send photos to it.
Nokia have made no comment on pricing but with it being reasonable, we can see these getting popular.
The frames that don't need to physical need to you to load the content on to them – you can upload images remotely – are the ones with the better future. Those who have bought this type, such as the dial-up Ceiva, for relatives and friend have nothing but praise for the concept.