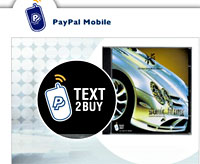 PayPal has announced that it's wading into the world of mobile payments with the announcement of a new texting service, PayPal Mobile.
PayPal Mobile will let users send money, purchase items or donate to charities from their mobile devices and the Text to Buy service wil let impatient shippers grab goods by sending product codes via text message – so long as both buyer and seller are in the same country.
The eBay owned outfit will be launching the new service in the UK, Canada and the US over the course of the month, and any PayPal user who's registered their mobile through their online account will be able to use the service.
The system uses 'short codes' – these are the five digit numbers you see on TV when you're being invited to enter a competition or vote some ghastly E-list celeb off some equally ghastly reality show.
"With the overwhelming popularity of mobile phones, the time has never been better for the merging of ecommerce and wireless devices," trumpeted PayPal President Jeff Jordan.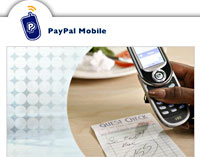 "PayPal already has more than 100 million accounts worldwide, and our customers have already entrusted their personal and financial information to PayPal. Now, making payments is as easy as sending a text message anytime, from anywhere for the millions of customers that prefer to use PayPal," he continued, with a worrying amount of enthusiasm.
Business
A company signed up to PayPal Mobile can place product codes on items for sales along with PayPal's short code phone number. These can appear on their websites, on ebay or in magazines and TV ads.
Punters suitably salivated by the product and ready to get buying can then text the product code to PayPal to pay for their item.
Person to person
For cash transactions between people, users have to input the amount of money (don't do this when drunk, folks!) and then add the recipient's mobile number to the PayPal short code.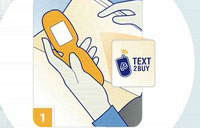 An automated system reads the received text and then calls the PayPal user back and prompts them to enter their PIN.
PayPal Mobile payments are backed by PayPal's fraud prevention system and the system ensures that financial information is never shared with the recipient.
With financial information being stored on PayPal's secure servers, and not on the phones themselves, the user's PayPal account should remain secure even if the phone is 'alf-inched.